If you have been identified as a potential BPAT assessor, you will need to complete these steps:
Register on the website
Notify the BPAT team that you have registered so you can be given additional site privileges
Then login to the website again.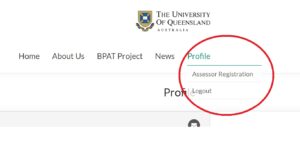 On the PROFILE tab on the main menu, click on ASSESSOR registration
Assessor Registration step1
On the Assessor Registration Acceptance page, please make sure you
read carefully the terms and conditions.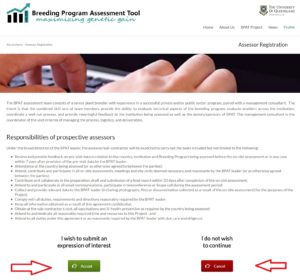 Then click on the ACCEPT button to proceed. (or the CANCEL button to quit this operation)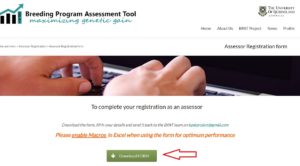 On the next page, click on DOWNLOAD form to download the file for assessor registration.
(the collection of information is currently done through an excel file with macros – please make sure that your settings on MS Excel allow macros to run to ensure the optimum functionality of this form)
On completion of the form, please send it by email to BPAT leader Chris Lambrides (chris.lambrides@uq.edu.au)
Assessor Registration step 2
How do I complete my assessor registration?