The BPAT Breeding Program Pre-Visit Survey has been restructured and updated.
You can access the latest version of this survey from:
BPAT Project > Download Tools section.
Registered Users need to login before downloading the tools.
First time users need to register on the BPAT site before attempting to log on.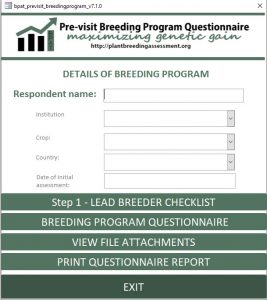 When using the form for the first time, please make sure that you
Enter the required information in the opening form (name, institution, crop, country, and date)
view the Lead Breeder checklist
This checklist has all the details of what needs to be covered in the presentation which the lead breeder is required to give at the beginning of the BPAT meeting.
Update of BPAT Breeding Program Pre-visit Survey